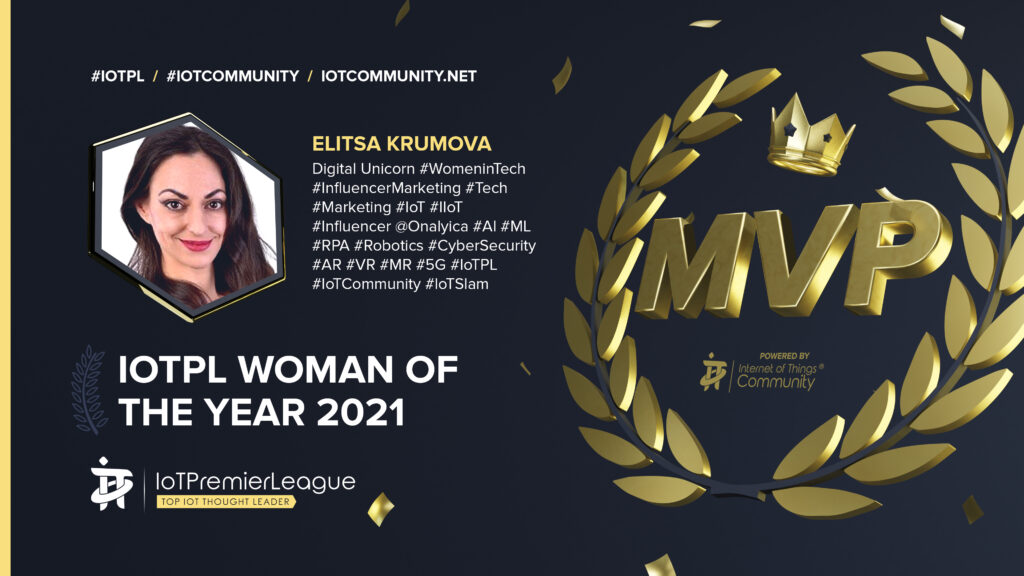 Festive greeting from me!
On the last day of 2021, I reviewed my Year 2021 Resolutions and I am glad to confirm that I completed all my goals for 2021!
I am proud to announce that this December I was given the award 'IoT Premier League Woman of the Year Award 2021'!
I also ranked 3rd in the 'IoT Premier League Top 100 Thought Leaders and Influencers 2021' rankings.
Here is the link to the award and the final rankings of the 'IoTPL Top 100 Thought Leaders and Influencers season 2021':
https://iotpractitioner.com/iot-premier-league-week-45-standings-and-2021-season-mvp-awards/
I am happy to say that I was also named among the 'Top 25 Industrial IoT Influencers for 2021' in the CBT Award ceremony in December.
Here is the link to the announcement:
https://www.cbtechinc.com/cbt-names-the-top-25-industrial-iot-influencers-for-2021/
It is a great honour for me to reveal that in 2021 I received more precious recognitions from the industry:
Top 50 Women in Tech Influencers to Follow 2021 by The Awards Magazine
5 IoT Influencers You Should Follow in 2021 by Davra
Who's Who in IoT Connectivity – IIoT Voices by Onalytica 2021
Who's Who in Digital Experience – AI Sector by Onalytica 2021
Who's Who in Data Science and Machine Learning – Social Amplifiers by Onalytica 2021
These recognitions are truly an immense honour for me and I believe that they will aid me in my efforts to contribute firmly to the "Women in Tech" and "Women in STEM" global movement.
Thank you for being by my side in 2021!
Let's start 2022 with good vibes and strong determination!
Wishing everyone a happy, blessed and prosperous New Year 2022! 🎇✨🥂🍾🌟🎆